School is again in session, but, thanks to The Waterworks that doesn't need to mean the end of summer fun for young people.  Learning experiences outside the classroom are recognised in The New Zealand Curriculum as a legitimate and highly valuable way of educating students.  Not only do they reinforce classroom learning; they also offer opportunities for students to demonstrate key competencies such as managing self, relating to others, participating and contributing.
As today's schools evolve to keep pace with ever-changing technologies in an ever-changing world, the focus on experiential learning is an essential part of schooling.  Never before have answers been so readily available. But simply googling the answers to a series of questions cannot be considered an education.  Encouraging and developing curiosity and wonder from an early age will go a long way toward teaching young people how to think, rather than what to think.  Ask a child the question 'Why?' and give them time to consider their response.  Watch the magic of curiosity unfurl.  
The Waterworks is a place where experiential learning happens daily.  It provides hands-on interactive experiences across the spectrum of curriculum and beyond the walls of the classroom. It is an ideal context to bring students for an EOTC experience, because it is relevant to every student, each in their own unique way.
Here are some examples of how learning outside the classroom occurs at The Waterworks.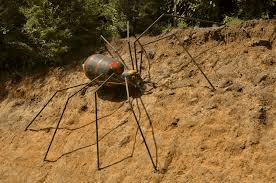 The Waterworks features over 70 attractions, all of which have been conceived using imagination and created using recycled or repurposed materials.  There are artful ceramic sculptures, gigantic steel structures, working waterwheels and fanciful scenes designed for visual delight.  The Waterworks is a hotbed of inspiration for visual artists, but did you know it is also a place where music is made?  Several of the attractions have been created for exactly this purpose; using the power of water and energy to create different sounds.  For auditory students, playing with the giant xylophone-like bamboo tunes, or interacting with the water-powered music box will create a transformative moment in their experiential comprehension of music.
Health and Physical Education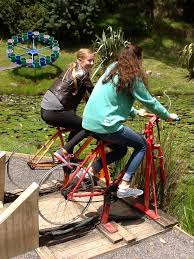 As the New Zealand lifestyle becomes increasingly more urban, some children will not have as many experiences in the outdoors as generations before them.  The Waterworks is unique in that its landscape is as much a part of the experience as the activities and attractions housed within it.  This eco-friendly amusement park is set amidst acres of regenerative native forest, with winding paths to walk along and a winding stream bordering the property.  It is a tranquil place where children immediately feel at ease and connected to the environment.  The opportunity for students to experience themselves in a spacious, natural setting creates teachable moments for self-awareness, reflection and interaction with nature.
The extensive playground and large grassy picnic area are the perfect place for children to do what children do best – play!  The opportunities for Physical Education are endless, as The Waterworks truly is a place where people can run, jump, climb, balance…even float through the air on a bike!  It is a safe place for students of all abilities to extend their comfort zones and try new activities. There is playground equipment to suit everyone, from the most cautious to the most thrill-seeking student.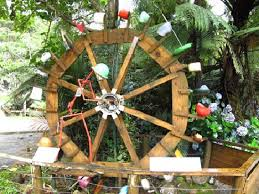 The Waterworks demonstrates responsible and informed citizenship through its commitment to maintaining environmentally sustainable practices. Seventy percent of all materials used in the attractions at The Waterworks have been recycled. No electricity is used throughout the park's gardens and 100% of the water is heated by solar power. The water is re-sourced and gravity fed from the creek on-site. From a social science perspective, The Waterworks eco-friendly theme park provides an example to students of how an organisation can operate according to values of integrity that serve to enhance, rather than exploit the environment.  Consider the conversations your students might have about how to create sustainable organisations and how they might positively impact on culture and society.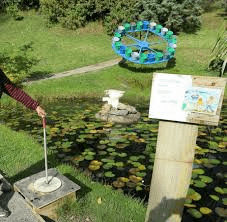 Could there ever be a better place for students to grasp engineering, hydro and solar power generation and using renewable resources for a sustainable future, than The Waterworks?  Scientific concepts can be challenging for students to understand, but because the attractions at The Waterworks are hands-on, the learning becomes experiential; providing further opportunities to build on their experience through reflection back in the classroom.  The experiential learning cycle encourages students to think more deeply, develop critical-thinking skills, and transfer their learning into action through each phase of the cycle.   It is much easier for students to make the connection between theory they've learnt in the classroom and the practical application of these scientific concepts when they are larger than life; vibrant and most of all, fun (especially if that fun includes saturating their teacher unawares!).
Mathematics and Technology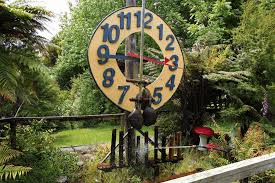 Because the activities at The Waterworks are so interactive, they lend themselves to applied understanding of mathematic concepts such as quantity, patterns, measurement and relativity.  How many buckets will it take to tip the water wheel?  At what point will the minute hand move on the water-powered clock?  With regard to technology, The Waterworks is really the living embodiment of design thinking and innovation.  In a proudly low-tech environment, can students draw parallels and connections between their digital high-tech world and the world of The Waterworks.
Regardless of age, gender, ability or privilege, The Waterworks promises to deliver an authentic learning experience within an Aotearoa/New Zealand context.  From Year 1 to Year 13, and throughout life, The Waterworks welcomes all curious students to a place of lifelong learning.  Visit our schools page for booking information.